DeepDishSwift 2023: That's a Wrap
It all started with a tweet on August 31st, 2022 by Josh Holtz...

At a time, there were no Swift conferences in North America. 360iDev had their final run in 2022 when they announced they would sunset the conference. North America had no conferences in sight.
In the meantime, Europe's conference list was growing larger by month. There were new conferences announced and the old ones picked up and re-launched again. We were finally ready to start conferencing in-person after a long time.
While some conferences kept running by going online, some decided to pause.
I've had an opportunity to participate and speak at a few online conferences and while I've really enjoyed attending, the experience just wasn't the same. While I do acknowledge the accessibility of online conferences, there is no substitution to meeting people in-person. We are, after all, social beings.
Organizing a conference is not an easy task. Something we, attendees, sometimes take for granted. We buy tickets, attend, and enjoy all the fruit of hard work someone put in for us. So acknowledge all conference organizers and all the work they put into the conference! A simple thank you means a lot.
The Conference
After the initial tweet about not starting a conference, it took Josh only 58 days to announce DeepDishSwift. I mean, no one doubted him. What Josh says, he accomplishes.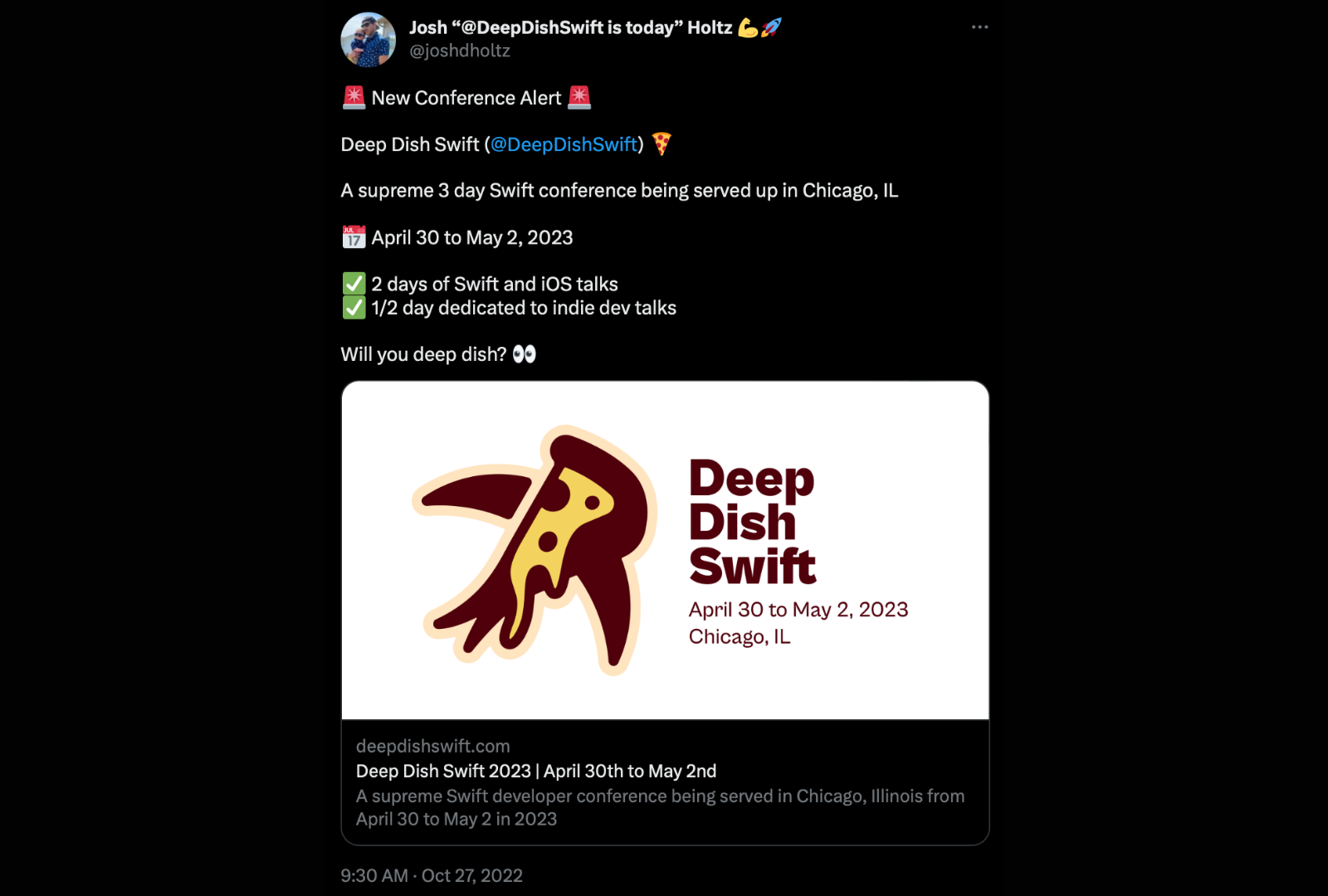 The interest in this new supreme conference in Chicago was great. People were lining up and the excitement was real.
Josh initially thought he'd sell about 150 tickets, and was really hoping for some good sales. Little did he know he'd sell 322 tickets. He completely sold out the tickets a few weeks before the conference and people were still lining up on a waitlist. Talking about the interest!
The Podcast
Malin and Kai had an idea of starting a podcast and interview all the speakers prior to the conference. The idea was to get to know the speakers and learn more about their background. What do the speakers do, how do they prepare for their talks, and what are they going to talk about.
It was a great idea, one that Malin and Kai have put to reality just as everything they do! The conference podcast called Slices: The Deep Dish Swift Podcast was a big success and gained a lot of popularity.
One of the questions they asked all speakers was Two Truths and a Lie. Speakers had to come up with three interesting things about them, two were true and one was a lie. The idea was to create a conversation starter questions and learn interesting things about speakers.
One of the attendees, Morten, thought of a really cool app idea and created an iOS app called DeepDishLie. The app was available for everyone on the first day of the conference. It was such a cool idea for anyone interested in collecting all the lies.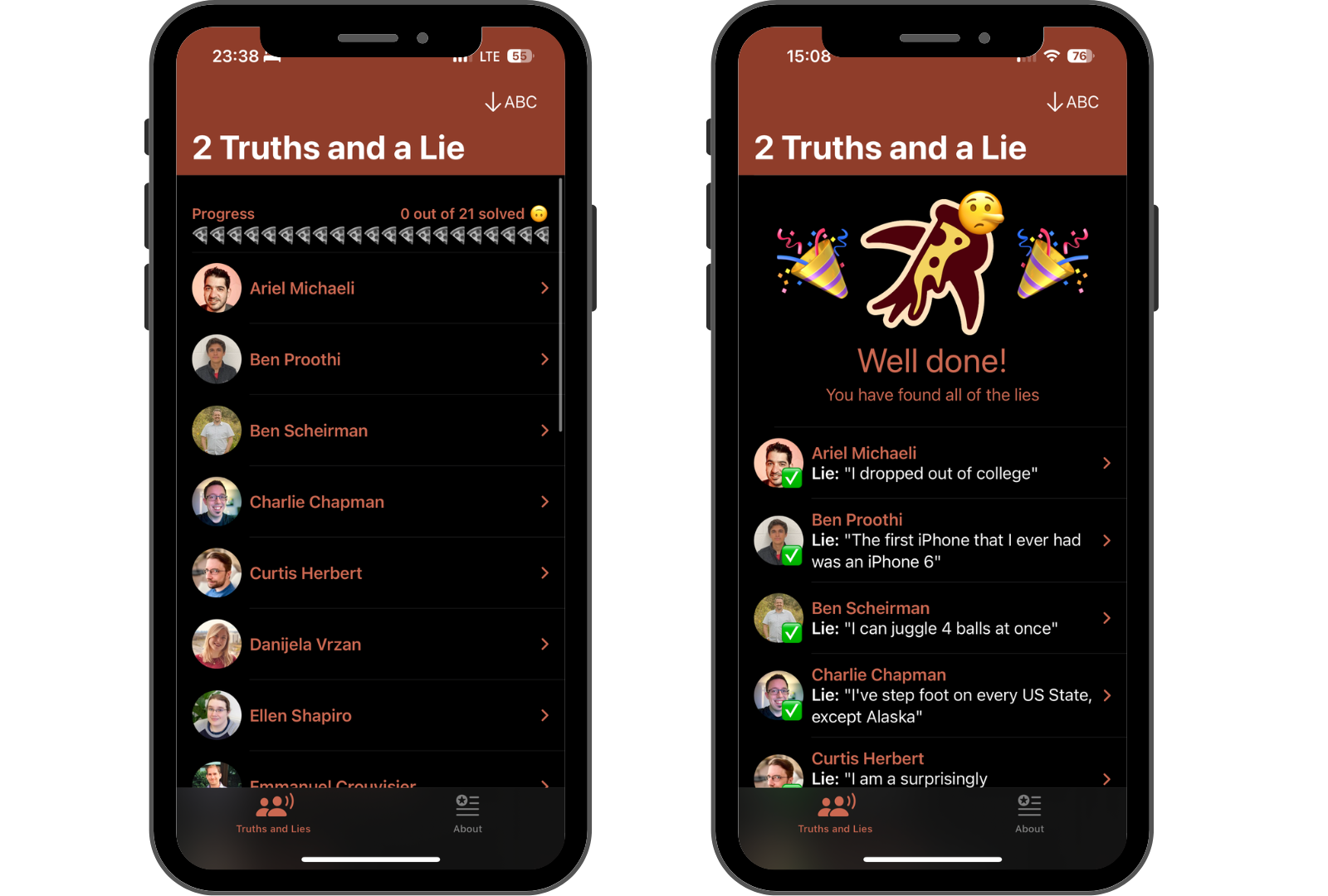 The Indie Dev Track - Day One
The first day of the conference was on Sunday. It was half a day of talks about indie development. Quite an interesting idea. And it did not surprise me to see it announced considering the connection Josh has with the indie dev community.
Josh runs a website and a newsletter called Indie Dev Monday that highlights indie developers in the community and the apps they've launched.
I've found the indie dev track quite interesting and very insightful. Indie developers sharing their success stories and paths they took before going full indie. They shared how they started, what worked, and also what didn't.
I've gained a deeper appreciation towards indie developers knowing it's not easy to leave a stable, full time job, and jump on a unknown aventure that may or may not go well. But they pushed through good and bad, and are all happy with where they are. So inspiring!
After the conference, we've had a speakers dinner at Giordanni's. It was the first time I've had the deep dish pizza. The taste was good, but I wouldn't call it a pizza. More like a cheese pie!
I love speaker dinners because we all get to catch up and hang out together. Most of the time at conferences we hang out with attendees.
The Main Track - Day Two
On Monday, the conference was in full swing! It was the first day of the main track of talks, six of them, with a closing Launched live podcast with Charlie and Jacob.
In the early morning, during breakfast, the hallway was full with people. New friendships were being formed and old friends catching up. Everyone was up and about. It was a nice sight to see.
We've been missing conferences for a long time in North America and even although the WWDC22 was in-person, it's not the same. What makes conferences different is that everyone pretty much knows where everyone else is. Most people stay in the same hotel or nearby and it's much easier to schedule dinner plans and hang out.
After breakfast, we started the main track with an opening keynote from Peter Steinberg, the founder of PSPDFKit. It was an inspiring talk about his life and his work. It's always interesting to hear the paths others took in their life and where it led them. I found the story inspiring. Thank you Peter for sharing it with us, it's not easy to open yourself up in front of such a large group of people.
After the opening keynote, we started the main track of talks.
I'm not going to talk about every talk individually. If you're interested in that, I've created a thread on Twitter where you can see all the speakers and their talks.
The talks were not recorded. You had to be there!
Also, Daniel Saidi wrote short summaries of every talk for Day 1, Day 2, and Day 3 if you're interested in reading more about the talks.
At the end of the day, WomenWhoCode organized a dinner. It was a small and safe surrounding for women attending and speaking at a conference to get together and get to know each other. I've met awesome ladies there!
The Main Track - Day Three
On Tuesday, it was another main track day. It was the final day.
There were less people during breakfast, everyone still sleeping from the last night's out. But also, even although everyone had a lot of fun, we were starting to get tired. Three days of presentations, focus, people, talking, and going around, is a lot for anyone.
I'm an introvert. Hanging around with people tires me. When I got back home from the conference, it took me entire week to recover.
People were still hanging around between every talk; exchanging contacts, stickers, and pins. There were a lot of goodbyes. The day went by quite fast.
Final talk of the day was the closing keynote by Paul Hudson titled Forward, Together. It was a talk about community, about caring, and about moving forward, together. Paul cares a great deal about our community and making sure everyone has a say and everyone can participate, equally.
It was an insightful talk on diversity and inclusion. What I take from the talk is, be nice to everyone.
The Community
Conferences are an awesome opportunity to network and meet people. I've met so many people at DeepDishSwift, I lost track. There were 300+ people in the room and I still haven't talked to everyone.
I got to meet a lot of people I've only known through social media, like Twitter. Some of them I've known since I started learning iOS Development and I finally got to meet them in person. That was an awesome experience.
The people in this community is what makes conferences awesome. Not swag, not speakers, and not pizza. The community.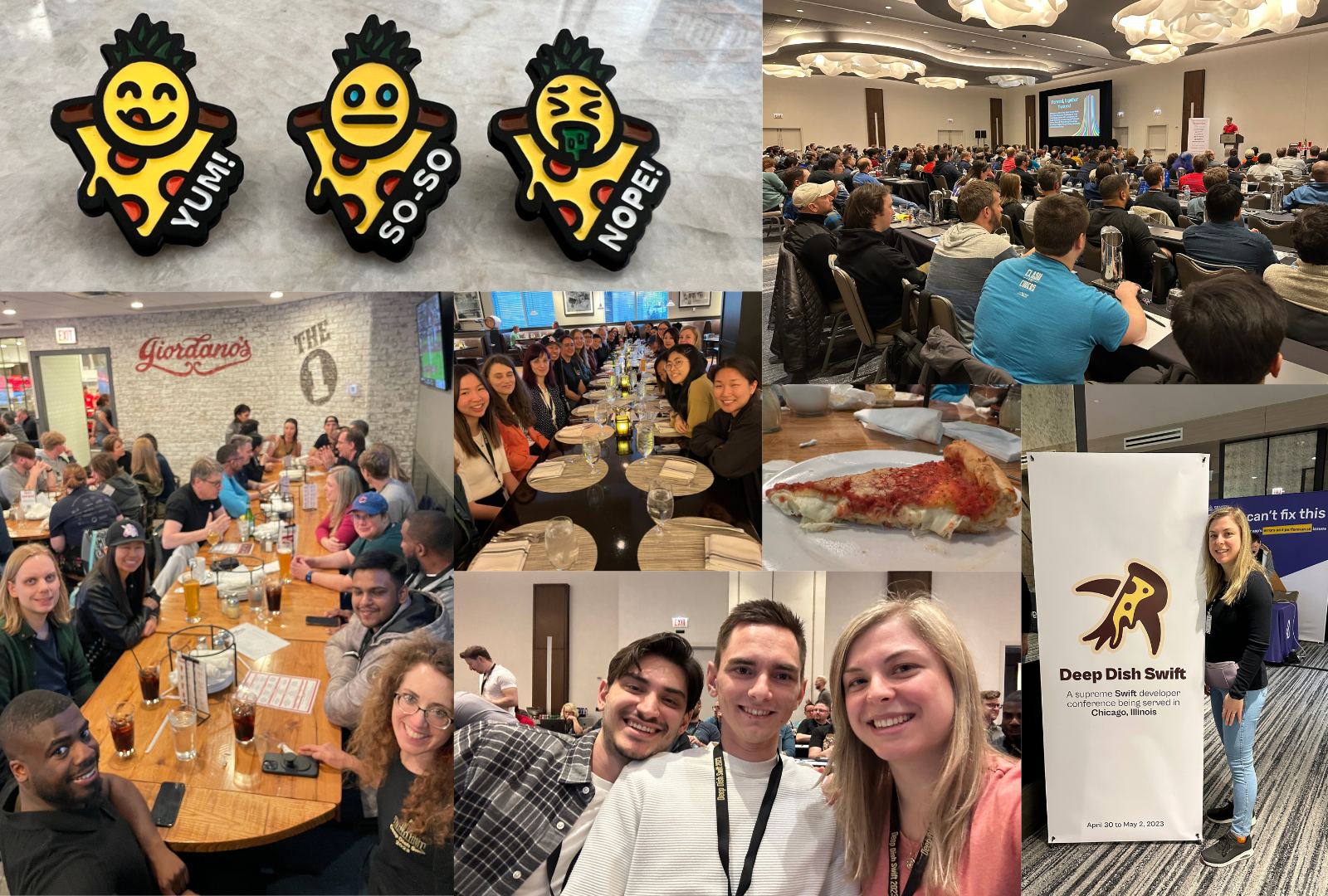 Final Thoughts
I love conferences. I enjoy meeting people from around the world, listen to their stories, and how they got to where they are now. I learn a lot from talking to people and it makes me look at certain things from a different perspective.
After meeting people at a conference, where everyone does a lot of things, it can be overwhelming. Developers publishing apps, writing blogs and books, mentoring bootcamps, and a lot of other things.
After I get home, I have a lot of inspiration from everyone, but it can also feel like you're not doing enough or nothing at all. Know that it's fine not to publish apps every other month and to not have written a book or a blog. Don't compare yourself to others and do your own thing. Maybe you're mentoring someone or teaching programming at a school? That's amazing!
In case you're interested into speaking at a conference, I suggest reading my post on Why speak at conferences and how to apply. Feel free to reach out if that interests you and I'd be happy to help!
---
Please feel free to reach out on Twitter if you have any questions, comments, or feedback.
Thank you for reading and thank you to Josh, Kari, and Suzannah for the amazing first year of DeepDishSwift!